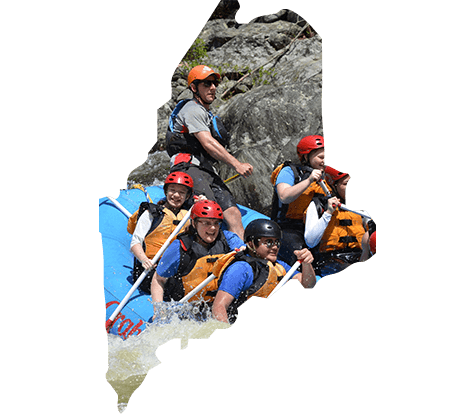 Discover the thrill of the rapids in Maine with Crab Apple Whitewater Rafting. Since 1983, our Family has been been dedicated to providing unforgettable adventures that stand out from the rest.
We're passionate about the outdoors and sharing the excitement of rafting with our guests. With a focus on safety and customer satisfaction, our experienced guides and state-of-the-art equipment ensure an unparalleled rafting experience.
Why Choose Crab Apple?
Our three generation Family business with a 40+ year commitment to safe and quality rafting adventures sets us apart from other outfitters. Family members participate in each facet of our trips from booking your trip to welcoming you upon arrival to guiding your raft and enjoying time together with a post-trip meal. Our Maine facility is complete with lodging, pub and restaurant, outdoor heated pool, paintball fields and other activities for a one-stop adventure location. Our Family hires and maintains seasoned guides that are experts on our rivers, guaranteeing an exhilarating yet secure journey for all adventurers.
Lodging Options
Choose from a variety of handpicked lodging options, from cozy cabins to comfortable hotels. After a day of exhilarating rafting, unwind in comfortable accommodations surrounded by the beauty of Maine.
We offer both standard and premium packages to suit your preferences. Standard packages provide comfortable lodging with essential amenities, while our premium packages offer added perks and enhanced accommodations for an even more luxurious stay.
Immerse yourself in the excitement of whitewater rafting through captivating videos of adventurers experiencing the thrill firsthand. Get a glimpse of the joyous moments before and after their rafting trips in group photos that capture the camaraderie.
Maine Whitewater Rafting Locations
Embark on extraordinary journeys down the Kennebec and Dead Rivers, each offering its own thrills and challenges. The Kennebec River boasts a mix of exhilarating Class II to Class IV rapids, perfect for both beginners and seasoned rafters. For the adrenaline-seekers, the Dead River's continuous Class IV and V rapids provide the ultimate rush.
The Kennebec River offers breathtaking scenery, pristine wilderness, and exciting rapids suitable for all skill levels. The Dead River promises a thrilling adventure with its challenging rapids, making it a must for those seeking an unforgettable experience.
Safety Measures and Equipment
Before your adventure, pack swimwear, quick-drying clothes, and secure footwear. We recommend sunscreen, a hat, and sunglasses to protect against the sun. Our expert guides will provide a comprehensive safety briefing, ensuring you're well-prepared for your rafting experience.
Your safety is our priority. We equip you with top-of-the-line safety gear, including personal flotation devices (PFDs) and helmets, keeping you safe throughout the trip. Let us know about any medical conditions or physical limitations so we can accommodate your needs and make necessary arrangements for a comfortable and enjoyable journey.
On those cool summer days, and in the spring and fall, don't forget to take advantage of our wetsuit rentals so you can enjoy the river to the fullest. For an enhanced experience, consider bringing a waterproof camera to capture the thrill of your adventure. Stay hydrated and maintain a positive spirit to fully immerse yourself in the excitement.
Complete your Maine Crab Apple Experience!
Discover More Adventures
Crab Apple has offered rafting trips in Maine, Massachusetts and Vermont since 1983. Check out all of our trips in New England.
Last Minute Needs
3 Lake Moxie Rd,
The Forks, Maine 04985