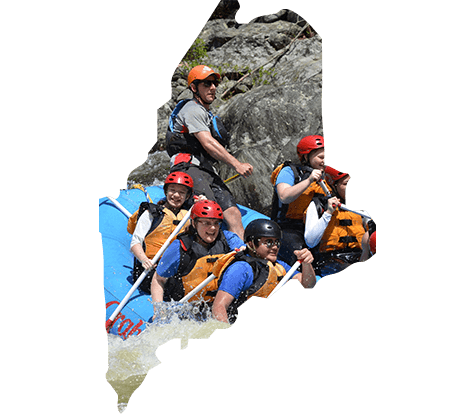 EXPERIENCE THE BEST NEW ENGLAND WHITEWATER RAFTING!

Our family has offered whitewater rafting adventures in Maine on the Kennebec and Dead Rivers since 1983. Our riverside location cannot be topped – our most popular Kennebec River trips float right to our base camp. We have riverside lodging, a comfortable pub & restaurant and outdoor pool. Family members are present every day and coordinate each trip as the owners live on the property and the next two generations run the reservation office, restaurant and rafting trips.
What sets one outfitter apart from another? Commitment to excellence and attention to detail. We are passionate about everything we do – especially passionate about training and maintaining a superior staff on and off the river – "best guides on the river" is a phrase we are psyched to hear quite often.
We have over 35 years of helping people feel the intensity of the rapids and the serenity in the calmer areas between rapids. We know that time is valuable and that a river experience is enhanced greatly by a fantastic guide who gets to know you personally as the day unfolds. We really love what we do at Crab Apple Whitewater!
At Crab Apple – world class white water, comfortable lodging and an awesome staff combine to create a superior rafting experience for your friends, family or group. Come visit us this season!

Complete your Maine Crab Apple Experience!
Discover More Adventures
Crab Apple has offered rafting trips in Maine, Massachusetts and Vermont since 1983. Check out all of our trips in New England.
Last Minute Needs
3 Lake Moxie Rd,
The Forks, Maine 04985