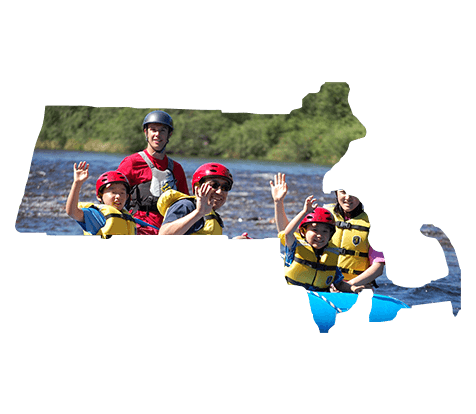 Welcome to Crab Apple Whitewater Rafting, your gateway to thrilling adventures on the Deerfield and Millers Rivers in Massachusetts.
We've been providing exhilarating rafting experiences since 1983. As a family-owned business, we take pride in offering safe and enjoyable adventures that cater to all levels of rafters. What sets us apart is our dedication to creating unforgettable memories for every guest. With expert guides, top-notch equipment, and a commitment to safety, we ensure a seamless and thrilling rafting experience for you and your family.
Whitewater Rafting Trips
Embark on unforgettable journeys on the Deerfield and Millers Rivers. Our diverse range of trips caters to families, beginners, and seasoned rafters, ensuring everyone can enjoy the excitement of whitewater rafting.
The Deerfield River offers Class I to Class IV rapids, providing an exciting yet family-friendly rafting experience. The Millers River, with its Class II to Class III rapids, is perfect for those seeking a more intermediate-level adventure.
Safety Measures and Equipment
Before your adventure, pack comfortable swimwear, quick-drying clothes, and secure footwear. Don't forget sunscreen, a hat, and sunglasses to protect against the sun's rays. Bringing a change of clothes is recommended for your post-rafting comfort.
Your safety is our priority. We provide high-quality safety equipment, including personal flotation devices (PFDs) and helmets, to ensure a secure and enjoyable rafting experience. To make the most of your rafting journey, listen attentively to your guides' instructions and paddle as a team.
On those cool summer days, and in the spring and fall, don't forget to take advantage of our wetsuit rentals so you can enjoy the river to the fullest. Capture the excitement with a waterproof camera and maintain a positive spirit to fully immerse yourself in the adventure.
Lodging Options
After a day of rafting, relax and unwind in the nearby hotels and motels. We have partnered with excellent accommodations to ensure your stay is as comfortable as possible. Witness the excitement of your rafting adventure through captivating videos of individuals experiencing the thrill of whitewater rafting. Additionally, explore group photos of beaming faces before and after their rafting trip, capturing the camaraderie and joy.
Complete your Massachusetts Crab Apple Experience!
Last Minute Needs
2056 Mohawk Trail,
Charlemont, MA 01339