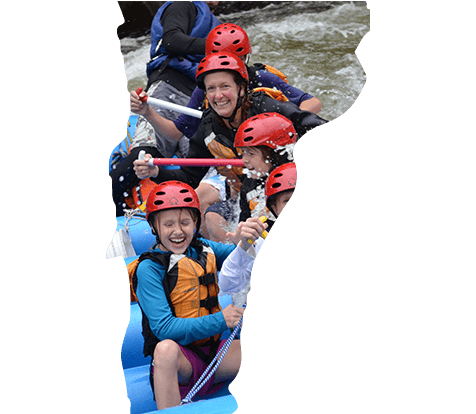 Welcome to Crab Apple Whitewater Rafting, where we invite you to experience the best whitewater rafting in Vermont.
Crab Apple has been a pioneer in providing thrilling and memorable rafting experiences since 1983. With a passion for adventure and safety, we are dedicated to ensuring you have an extraordinary and safe rafting journey with us. We take pride in offering personalized and unforgettable experiences. Our experienced guides, state-of-the-art equipment, and commitment to safety make us the top choice for whitewater rafting adventures in Vermont.
West River Whitewater Rafting
Discover the excitement of rafting on the West River, a true gem of Vermont. This journey offers breathtaking scenery and an exciting ride that will leave you with lasting memories.
The West River offers an invigorating mix of Class II to Class IV rapids, making it an ideal destination for both beginners and experienced rafters. Whether you seek adventure or a fun-filled family trip, the West River promises an unforgettable experience.
Safety Measures and Equipment
Before embarking on your adventure, pack comfortable swimwear, quick-drying clothes, and secure footwear. Sunscreen, a hat, and sunglasses are essential to protect against the sun's rays. Bringing a change of clothes is recommended for your comfort after the rafting experience.
Your safety is our priority. We equip you with top-quality safety gear, including personal flotation devices (PFDs) and helmets, ensuring you are safe throughout your rafting journey. To make the most of your rafting experience, listen attentively to your guides' instructions and paddle as a team.
On those cool summer days, and in the spring and fall, don't forget to take advantage of our wetsuit rentals so you can enjoy the river to the fullest. Capture the thrill with a waterproof camera and embrace the sense of camaraderie to fully immerse yourself in the adventure.
Lodging Options
After an exhilarating day on the river, unwind in nearby hotels or motels handpicked to ensure your comfort and convenience during your stay.
Watch the excitement come alive in captivating videos of individuals enjoying their whitewater rafting experience. Additionally, explore group photos capturing the joyous moments before and after their fun rafting trip.
Join us at Crab Apple Whitewater Rafting for an unforgettable Vermont adventure. Book your trip today and immerse yourself in the beauty and excitement of Vermont's whitewater rapids.
Discover More Adventures
Crab Apple has offered rafting trips in Maine, Massachusetts and Vermont since 1983. Check out all of our trips in New England.
Last Minute Needs
Mount Snow Sundance Lodge Pisgah Road West Dover, VT 05356