Experience Rapid Shot Paintball in The Forks, Maine at Crab Apple, where thrilling games await.
At Crab Apple, we offer an exhilarating and immersive paintball experience that caters to players of all levels. With state-of-the-art equipment and diverse game scenarios, we guarantee an adrenaline-pumping day of action and camaraderie.
The Mayday Field: A Unique Paintball Experience
Step into the immersive world of Mayday Field, where excitement and strategy converge. This dynamic field boasts diverse landscapes, from dense woods to open fields, providing the perfect setting for intense paintball battles.
Choose from a variety of paintball games that cater to different playing styles and group sizes. Whether you're a beginner or a seasoned pro, our games are designed to keep the fun alive throughout your time on the field. Additionally, we offer various paintball packages to suit your preferences and budget.
How to Prepare for Your Paintball Course Adventure
Before arriving at Crab Apple, make sure to wear comfortable clothing suitable for outdoor activities. Closed-toe shoes are required and protective clothing is recommended to ensure a safe and enjoyable experience.
While we provide the paintball equipment, you're welcome to bring your own if you prefer. We also offer rental options for protective gear, including masks and chest protectors, to enhance your safety and comfort during the games.
Your safety is paramount to us. Our experienced staff will brief you on safety protocols, including the proper use of equipment and gameplay guidelines. Respecting your fellow players and adhering to the rules creates a fun and secure environment for everyone.
Navigate Mayday Field with ease using a map that highlights the layout and key features. Explore vivid photos capturing the excitement of paintball battles from various perspectives. Get a closer look at the paintball guns and safety equipment provided to ensure an immersive experience. Witness the spirit of competition in action through pictures of players engaged in thrilling paintball games.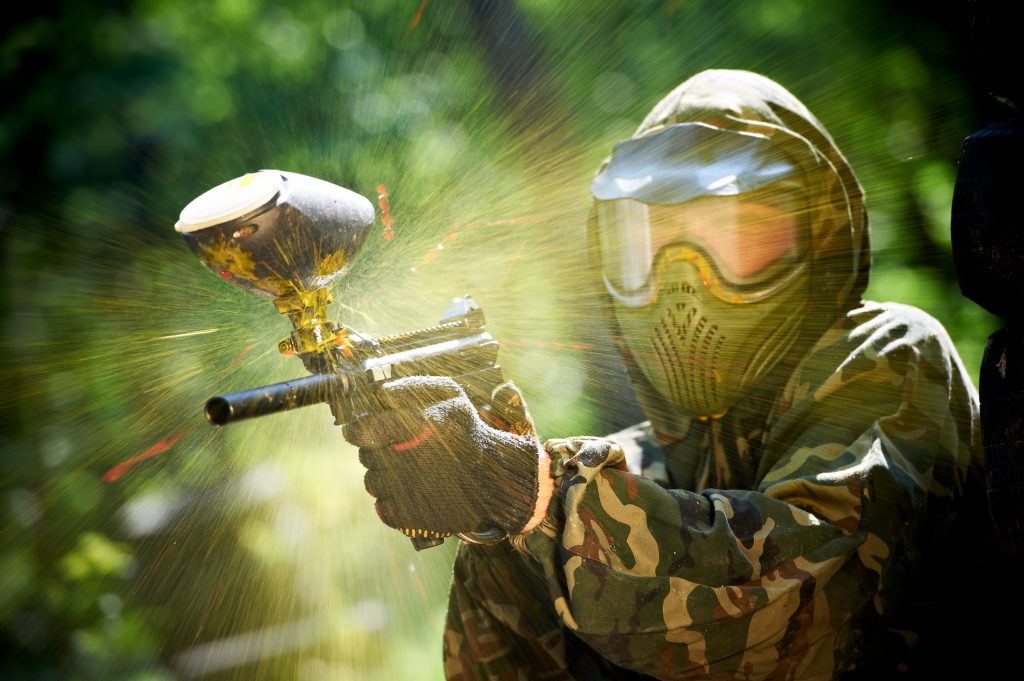 Trip & Pricing INformation
Season: Open 7 days a week, May – October. Minimum of 8 to play – often smaller groups combined to a total of 8 or more.
Minimum age: 10
Meeting Place:
Crab Apple on the Kennebec The Forks, Maine
Trip Itinerary:
Check-in and paperwork
Change clothes and get ready
10 minute bus ride to Rapid Shot fields
Pick up gear – markers, tanks, masks, helmets, etc.
Safety instruction / Game play introduction
Play approximately 2-3 hours
All prices include everything you need to play: paintball marker, goggles, facemask, coveralls, pellet packs, unlimited compressed air and field referees.
Paintball: $65pp. Games begin daily after rafting. Groups can custom reserve games the afternoon before rafting or the morning after rafting also.
Includes: 2-3 hours of play after your raft trip and 500 paintballs.
Nightfall: approximately 4-7pm.
Extra Paint: $80 for a case of 2000. Players must use Rapid Shot Paintball paint.
Footwear: Sturdy footwear is a must. Boots are better than sneakers.
Outer Clothing: Our camouflage overalls are the best way to go – protecting your clothes from paint and dirt.
If you wear your own clothes, dark colors that blend into the environment are best. Long sleeve shirt and long pants are required. Multiple layers recommended.
Under Camouflage Overalls: Long sleeve shirt and pants recommended.
Hats: Baseball caps or bandanas fit under helmets.
For rainy days: Windbreakers and windpants may be worn over your own clothes or under the camouflage overalls to keep you warm and dry.
Medications: Always bring medications which you may need – asthma inhaler, bee sting kit, etc.
Accommodations and Meals: Crab Apple on the Kennebec offers you a comfortable, hassle-free stay in our suites, lodge, cabins and more.
Our pub and restaurant serve great food after a game of paintball!
Deals delivered to your inbox or phone!
Sign up for our newsletter to receive special offers via email and / or text message.
Crab Apple Whitewater respects your privacy. Crab Apple Whitewater does not share our customer information with anyone. Your information will be used exclusively for newsletter and promotions by Crab Apple Whitewater.