Rapid Shot Paintball
Rapid Shot Paintball is located in The Forks, Maine at Crab Apple Whitewater. We opened our fields in 2006 to give our rafting guests another activity to enjoy during their stay. Some rafters play our "Nightfall Paintball" games after rafting and many stay for an extra day of paintball action. We are surprised by the range of people that have so much fun playing paintball – first timers, veteran players, men, women, families, schools, summer camps, bachelor parties, etc.
We have worked on our fields each season and we have gotten great reviews from our players. Our "Mayday" field is a woods field built around a small aircraft that we purchased from a crash site and relocated to our field. Take the aircraft from the opposing team and you win! Our "Patriot" field is a red, white and blue speedball field. The colorful bunkers give you cover as you advance toward the enemy flag. The "Bunker Hill" field must be stormed with a three-sided frontal assault where a small hill and fire base protect it from oncoming attack. Our newest field, "Maine Street" is an urban assault scenario field with fourteen complete buildings – lobster shacks, kayak stores, jetport with an airplane, etc.
Join us for paintball fun in The Forks, Maine or come to Crab Apple Whitewater to "shoot the rapids" and then follow up by shooting some paintballs on our custom fields at Rapid Shot Paintball.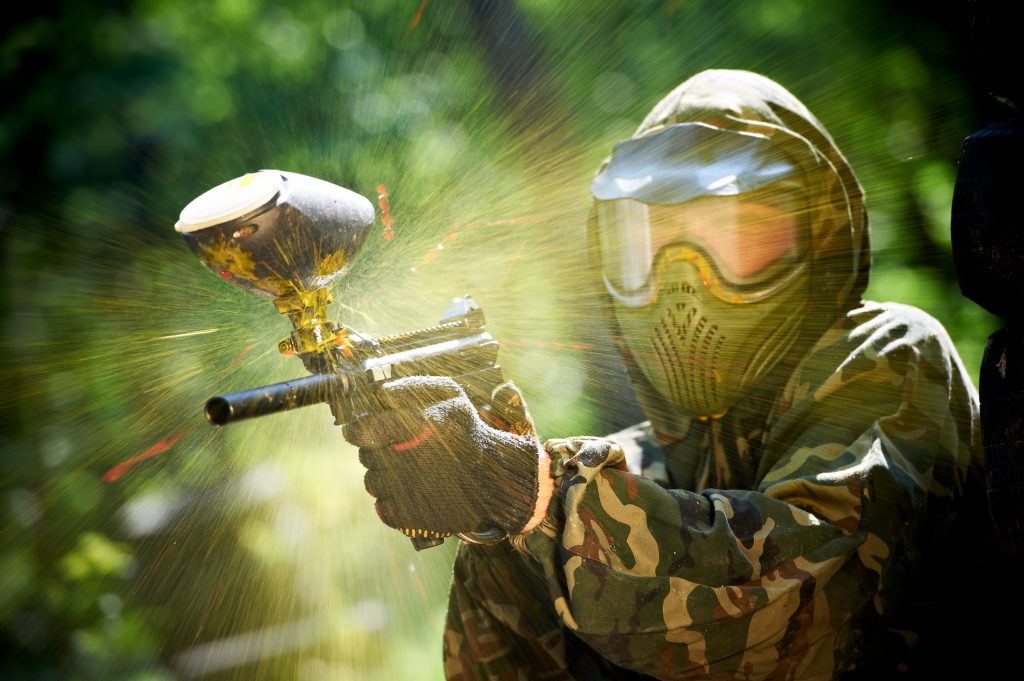 Trip & Pricing INformation
Season: Open 7 days a week, May – October. Minimum of 8 to play – often smaller groups combined to a total of 8 or more.
Minimum age: 10
Meeting Place:
Crab Apple on the Kennebec The Forks, Maine
Trip Itinerary:
Check-in and paperwork
Change clothes and get ready
10 minute bus ride to Rapid Shot fields
Pick up gear – markers, tanks, masks, helmets, etc.
Safety instruction / Game play introduction
Play approximately 2-3 hours
All prices include everything you need to play: paintball marker, goggles, facemask, coveralls, pellet packs, unlimited compressed air and field referees.
Paintball: $65pp. Games begin daily after rafting. Groups can custom reserve games the afternoon before rafting or the morning after rafting also.
Includes: 2-3 hours of play after your raft trip and 500 paintballs.
Nightfall: approximately 4-7pm.
Extra Paint: $80 for a case of 2000. Players must use Rapid Shot Paintball paint.
Footwear: Sturdy footwear is a must. Boots are better than sneakers.
Outer Clothing: Our camouflage overalls are the best way to go – protecting your clothes from paint and dirt.
If you wear your own clothes, dark colors that blend into the environment are best. Long sleeve shirt and long pants are required. Multiple layers recommended.
Under Camouflage Overalls: Long sleeve shirt and pants recommended.
Hats: Baseball caps or bandanas fit under helmets.
For rainy days: Windbreakers and windpants may be worn over your own clothes or under the camouflage overalls to keep you warm and dry.
Medications: Always bring medications which you may need – asthma inhaler, bee sting kit, etc.
Accommodations and Meals: Crab Apple on the Kennebec offers you a comfortable, hassle-free stay in our suites, lodge, cabins and more.
Our pub and restaurant serve great food after a game of paintball!
Deals delivered to your inbox or phone!
Sign up for our newsletter to receive special offers via email and / or text message.
Crab Apple Whitewater respects your privacy. Crab Apple Whitewater does not share our customer information with anyone. Your information will be used exclusively for newsletter and promotions by Crab Apple Whitewater.