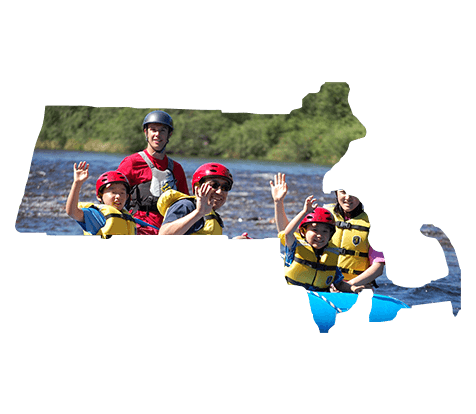 EXPERIENCE THE BEST NEW ENGLAND WHITE WATER RAFTING!
Who ran the first trips on the Deerfield River? – Crab Apple Whitewater started ahead of the competition in June 1989. After founding Crab Apple in Maine in 1983, we expanded to rafting in the Berkshires because of its proximity to more people and the wider range of challenges that we could offer. Come meet our family and our gifted staff who make a rafting experience special for your family, friends or Group.
Crab Apple's Massachusetts base camp sits along the beautiful Deerfield River on the historic Mohawk Trail in western Massachusetts. We use 25 miles of the dam controlled Deerfield River and also raft several other local rivers for a great deal of variety in our trips. You can choose half-day and full day trips on Mild, Intermediate or Wild whitewater as we coordinate our trips with regular dam releases from the many hydroelectric and flood control dams in the area.
Our "family" at Crab Apple extends from the three generation ownership family to our amazing crew of River Guides and land-based staff who make your entire experience comfortable and fun. We truly love what we do and the positive energy is infectious!
Book a trip for your Family, Friends or Group and experience a great day on our beautiful rivers in western Massachusetts!
Complete your Massachusetts Crab Apple Experience!
Last Minute Needs
2056 Mohawk Trail,
Charlemont, MA 01339