Rafting with Crab Apple is all about family – the Peabody & Mooney families and my family. I first rafted at age 40 in August 1984 on the Kennebec River and it was the last time I ever made the drive to do just one trip down the river. Subsequent trips always included two or three rafting trips and a few days of lodging.
At my first trip to Maine, Jennifer (Peabody) was 12 and Rob was 9 and I have watched them grow into adulthood and marry and have children. I have watched their children grow. What wonderful spouses they married and what terrific youngsters they have spawned. It buoys my spirit to think about them all. It always feels like I am part of their family and they are part of mine. The feeling of family also extends to their wonderful staff both on the business side as well as the rafting side.
I took both my daughters, ages 8 and 11, on their first Crab Apple trip ever, on the Fife Brook Section of the Deerfield River in 1989. I have taken both of them on many subsequent trips and recently I have gone with one of my son-in-laws.
The camaraderie on the river with friends and family is exciting. Approaching big waves is so exhilarating that all thoughts of the rest of my life are out of my mind. There is no greater thrill in my life than going into rapids such as "Big Mama", "Dragon's Tooth" or "Big Poplar Hill Falls". But when the river is calm, it is beautiful – especially the Kennebec which I have rafted approximately 200 times, and there is a God, as it has always been a sunny day. Imagine that – 200 or so trips and never a rainy day on the Kennebec even if it was pouring right up until our put-in time!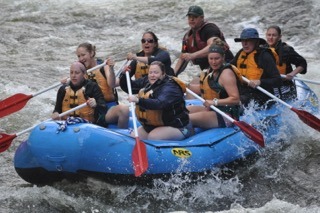 Years ago I rafted the West River in Vermont with Bob Ulseth and his daughter. Why did we go? He was developing Alzheimer's which forced him to retire and give up driving. But he had unfinished business. He always wanted to raft the West River to complete all of the rivers Crab Apple has to offer. His daughter contacted me and came up from the south and we fulfilled his dream. It was a beautiful fall day and the colorful vista with rafters walking down the long serpentine path to the river, and the foliage is a scene I often remember fondly. Later at a memorial service for Bob, one of his loyal staff of more than 20 years came up to me and told me that he was happiest in the few days before each of our many trips together and always came back in a buoyant mood.
Three years ago I "retired" from river rafting because of all my buddies either died, moved or lost interest. Also my balance, strength and my right shoulder were not what they once were. But last year I decided to visit Crab Apple to see my rafting family and do one more Kennebec River trip. I'm hooked again and I returned to Maine to do two more rivers last summer and I am planning to do at least three trips this coming year, one with my 9 year old granddaughter on the Deerfield.