Each day raft guides hear the same question – "What do you do in the rafting off-season?" Answers range from local Students who relate their experience at the University of Massachusetts to weekend River Guides that are Engineers, Computer Programmers, and Educators during the week.
One Crab Apple guide has a unique answer, "I am a Pre-Med Major at the University of Vermont and I am on the Alpine Ski Team at UVM … and sometimes I travel to ski on the World Cup Tour".
Then Crab Apple Rafters say: "Whoa! – what was that again? You ski on the World Cup? Like on TV? Are you in the Olympics"?
So then Crab Apple River Guide Paula Moltzan backs up and gives them the full picture… she grew up in Minnesota and learned to ski with the famous Buck Hill Ski Club which has turned out many US Team Alpine Skiers including Lindsey Vonn. After big-time success as a young racer, Paula left Minnesota as a teenager to ski with the Vail Ski Club in Colorado. Continued success as a Junior Racer earned her an invite onto the US Ski Team in 2013.
Paula skied with the US Ski Team for 4 seasons from 2013-2016. She skied mostly Slalom events and got to race in the US, Finland, Austria, Croatia, France, Canada, Italy, Sweden, and Germany. At the 2014 Olympics in Socci, Russia Paula trained and was ready to race but the US only could have two racers participate in the Slalom and Paula was #3 in the US at the time.
After the 2016 season, Paula gave up individual racing and decided on the University of Vermont for school and Collegiate racing. UVM has a long tradition of Alpine Skiing All Americans, NCAA Individual Champions and Team Championships. In her first season, Paula won the NCAA Slalom Championship and Gained First Team All American Honors. Her Sophomore Year was 2017-2018 and Paula added Podium (Top 3) finishes at "Nationals" in both Slalom and Giant Slalom to her resume. In 2018-2019 Paula once again was named as a First Team All-American and helped UVM to a National Champion Runner-Up finish at NCAA National Championships.
The Summer of 2018 was another great experience for Paula – she returned for her second season of whitewater rafting each day on the Deerfield River and then staying in shape after work with grueling mountain bike rides in the local hills and at Berkshire East Ski Area. But she did not ski in the long off-season for the second summer in a row. This downtime would figure to erode her skills as her competitors from around the globe that had not entered the University system were skiing in all 12 months each year. Some counted her out in terms of returning to World Cup racing form, but they underestimated Paula.
In November 2018, the UVM Alpine Ski Team headed to Colorado for its pre-season training. Paula was invited to a Race Trial while she was out there for a select few Women to race against each other to try and win a spot to start at the Killington World Cup race that would happen 10 days later. Paula had been skiing for less than one week before the trial. No matter – Paula won 3 out of the 4 Slalom runs and earned a spot to race at Killington over Thanksgiving weekend.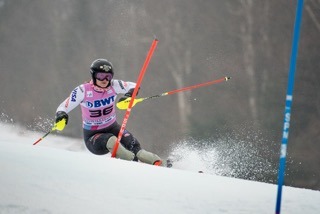 At Killington, the weather turned ugly with warm temps and rain the night before the Slalom race. Race conditions were very tough with dense fog and bumpy snow, so Paula had a very tough job to ski the first run and come in 30th place or better to earn a chance at a second run and her first World Cup points since heading to UVM. Paula hung in there on a very bumpy track to finish 28th and have a chance for a second run. But the story really takes off with her second run where Paula turned in the fourth fastest time just .06 seconds behind the leader. That lightning fast run moved her all the way up to 17th position overall. For that great result, Paula earned valuable World Cup points and an invite to ski all the rest of the 2018-2019 World Cup Slalom races!
Now the question for Paula was how to balance her responsibilities academically at UVM, athletically at UVM and a grueling travel schedule in Europe for several World Cup Slalom races. Paula and boyfriend/Coach/Service Tech Ryan Mooney (Crab Apple owner's Grandson!) made an independent two-person team and traveled three different times to Europe during December, January, and February. Her travel and training were planned literally day to day as she was an independent racer and not a formal member of the US Ski Team.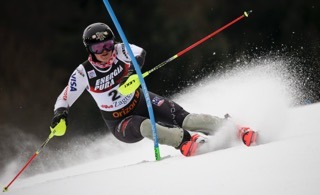 In December Paula and Ryan traveled to Courchevel, France and Paula had an amazing second run and placed 15th. From France, they drove to Austria and Croatia but did not get the results she was hoping for. Her final race during the UVM Winter break was in Flachau, Austria and Paula's 2nd place the second run moved her up to a career-best 12th place.
After a couple of weeks of going to class in Burlington, Vt and winning races for the Catamount Ski Team, Paula returned to Maribor, Slovenia for a week and was strong again with a 16th place finish. Maybe this would be the last exhausting trip to Europe?? No – Paula got an invite to World Championships in Are, Sweden so after less than a week back in Vermont, Ryan and Paula flew to Are and Paula fought through the jet lag and crazy schedule to notch an 18th place finish with the best in the World on the mountain!
In April 2019 Paula was named back to the US Ski Team. She is ranked #2 in the US for Women's Slalom behind Mikaela Shiffrin and #25 in the World. While her plans for finishing at UVM are on hold, her ski racing career is back in full swing with the Paula and Ryan team of two looking ahead to skiing a full World Cup Schedule in 2019-2020. The Summer of 2019 will balance some travel to ski destinations, strong workouts in the gym and on the bike and lots of fun on the Deerfield River rafting with Crab Apple Whitewater.
Come see Paula this summer. Introduce yourself and get a photo. She's our Paula, easily approachable and ready with a big smile! Video of Paula's lighting fast second run at Killington World Cup 11/25/2018.
https://www.facebook.com/mark.moltzan/videos/10218586691717694/