Primary Differences & Examples of High Volume & Low Volume Whitewater Rafting Rivers
When researching or preparing for a rafting trip people often see the terms "high volume" or "low volume" whitewater in the descriptions of the rivers and rapids. Both types offer unique and similar features. Crab Apple Whitewater Rafting is fortunate that we can offer both types of trips. Guides and veteran rafters often prefer one style or the other.

Volume essentially refers to the amount of water in the river. Some high volume rivers are fed by dams and others run on rain and snowmelt. High volume rivers usually contain big crashing waves and swift, fast moving currents. They are generally deep with few rocks exposed. Exposed rocks pose hazards and must be avoided to eliminate "pinning" situations and flipped rafts. "Pinning" refers to a whitewater craft being stuck on or wedged against an obstacle in the river.

The Kennebec River, in The Forks, Maine is a classic example of a high volume river. Fed by Moosehead Lake, one of the largest freshwater lakes in the USA, it offers high volume rafting every day. Harris Station is the largest energy producing dam in New England and offers a minimum daily release of 4800 CFS (nearly 36,000 gallons a second). Big, Class 3-4 waves and large frothy holes await the whitewater rafting enthusiast for the first seven miles below the dam. The lower section offers deep, swift, stretches of river to float in. The Kennebec is the deepest river Crab Apple Whitewater rafts and rocks are primarily deep under water.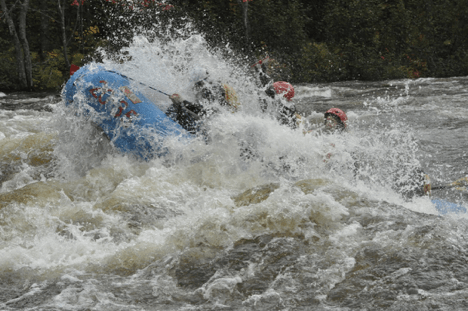 Low volume rivers are more common in most areas of the United States. The amount of water in the river is significantly lower, but width and gradient of the river bed will dictate whether it has significant whitewater features. These types of rivers usually require precise maneuvers and rocks are prominent. Pinning rafts and foot entrapments are generally a big concern. The water can also be shallow and if whitewater rafters fall out they may bump the bottom. A low volume river can also become a high volume river in the event of a flood or large rain event.

The Monroe Bridge Section of The Deerfield River is a low volume stretch of whitewater. The dam release is roughly 1,000 CFS (cubic feet of water per second). It offers Class 3-4 whitewater, but instead of big standing waves it has tight turns and crashing holes. Participants must paddle hard and listen to the guide if they are going to make it through the boulders in Monroe. This stretch is extremely technical and everyone must stay focused at all times. There are lots of eddies to stop in and for rest and to keep a group of rafts close and working together on the river.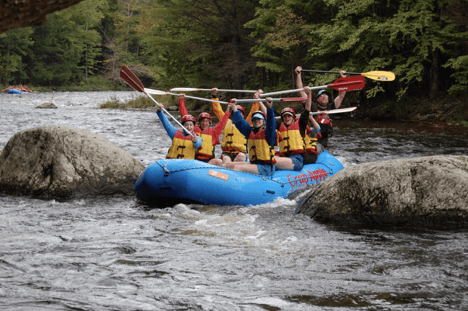 Guides and guests alike often have their preference of whitewater styles. Some love the big, crashing waves and some enjoy the challenge of tight maneuvers through rocks and drops. Crab Apple Whitewater offers both types of rivers – check them out and decide for yourself which gives you the rush!