My Dad passed away this winter. He made it to 83 and we had 51 years together – a great run for both of us! Of course, reminiscing with family about great times together has filled lots of my time over the past few months. While I help run a rafting company and rafting was a frequent topic for us, we did not share many days on the river. His life was more urban, time on the river for him was meant for fishing, while summertime daylight for me was spent working raft trips, rather than floating on pleasure cruises with family.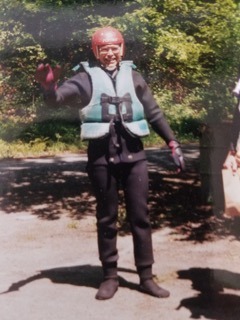 Recently we were sorting through some old photos and found some "keepers" – shots from the first time that Dad and I enjoyed rafting in Massachusetts on the Deerfield River. At the time I was merely the boyfriend of the raft company Owner's Daughter. That certainly did not count for much at Crab Apple Whitewater, but Jenn was interested in starting a new operation for Crab Apple on the Deerfield River. Her Dad, Chuck, had been running trips in Maine from Crab Apple Acres Inn with her Mom, Sharyn, since 1983. They were looking to expand and Jenn knew about whitewater on the Deerfield from her time as a competitive kayaker on the US National Team.

So we ventured out to try a trip below the Fife Brook Dam on the Deerfield River in June of 1990. During the previous summer, Jenn had set up a small operation for Crab Apple at a local campground. Eight commercial trips in the summer of 1989 gave her a sense of the river and the local surroundings.

Jenn outfitted me and my Dad in some rafting gear – wow does it look pitiful today! We had two piece wetsuits from a selection of 1970's and 80's gear that was warm, but a bit awkward and uncomfortable. But what did we know? The life jackets and helmets were similarly clunky and unsightly. Certainly a far cry from what we take on trips today!

We got a brief "safety lecture" from Jenn and headed upriver with an eleven foot standard floor (not self-baling) raft made by Riken (a raft manufacturer that has been out of business for some time now). Someone must have driven the shuttle for us, but that memory is lost.

In fact, the vast majority of the details from that first trip are lost. We floated nearly ten miles on a section of river which includes mostly Class 1 and 2 rapids. No trouble in the smaller rapids, but we had a rough ride through the one Class 3 rapid called "Zoar Gap" and Dad got dumped out of the raft. He was quickly rescued by Jenn and he was completely unfazed. The "swim" was not remarkable but did make the one lasting impression from the trip and always came up when discussing the early days of rafting with Jenn and me.

What was memorable from that first day on the Deerfield? The fun of riding the river with family and friends is first on the list. There is something special about time spent together on a river, immersed in nature, that is hard to articulate and quantify. But I knew that it was special and that I wanted more of the same. Other specifics from that day are hazy at best – the overall beauty of the river gorge made a lasting impression and is an important part of the experience during any river trip.

With nearly 30 years on the river, I've come to understand what rafting stirred up in me on that first day on the Deerfield. It was a chance to set out and discover a place for the first time and experience the spirit of the wilderness in a tangible way. Long after all the surrounding mountains, rapids and sights have been named there's still a sense that you are a pioneer in contemporary times and you can enjoy a unique experience each day on the river with family, old friends or new friends